Belfast Cathedral Quarter
G

roup Cycle Tour

Booking Options
There are two ways to go about booking your tour. Either coordinate your group so that everyone books the same date and time. Alternatively, elect your most organised friend to book and pay for the group then collect money from you all individually.
Time
1 Hour Tour
One hour is enough to do a circuit of Belfast Cathedral Quarter with two stops for refreshments.
2 Hour Tour
More time means more sights, more pedalling and more stops along the way!
Seats
Book one seat at a time
You can book a single seat, if you are joining a group just make sure you've picked the right date and time!
Book the whole bike or multiple bikes
You can book the whole bike in one go and make arranging the date with your group easy-peasy.
Price
1 Hour Tour:
Price: £20pp
Plus Booking Fee
2 Hour Tour:
Price: £40pp
Plus Booking Fee
Bikes hold 15 people and require a minimum of 8 to move, so you may be matched up with another group. Terms & Conditions apply.
On the Belfast Cathedral Quarter Cycle Tour
See the sights of Belfast!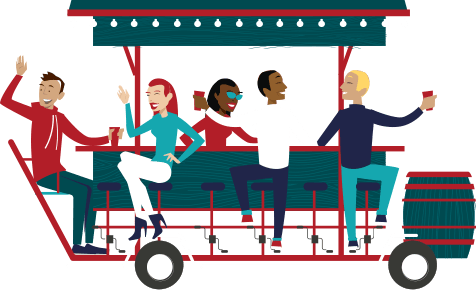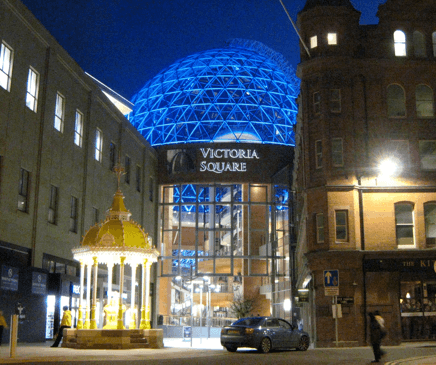 Victoria Square
One of the most modern buildings in the City, this is Belfast's top end shopping centre housing Topshop, Mango, House of Fraser and the Odeon Cinema. It also offers a good selection of fast food outlets such as Wagamama and Five Guys. The centre also features the iconic 'Dome' which offers the best views of the city' – don't try it if you are afraid of heights!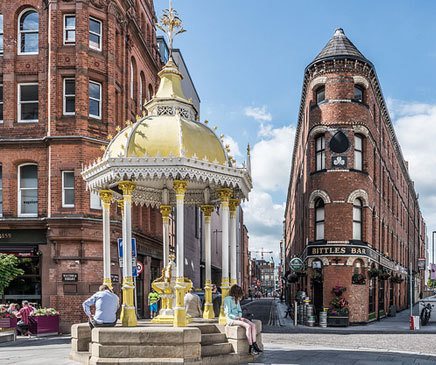 The Jaffe Memorial Fountain
This ornamental fountain was built in 1874 by Belfast's only Jewish Lord Major. In a nod to the City's architectural past, the impressive water feature has been beautifully restored in recent years and sits at the Victoria Street entrance to the shopping centre and adjacent to Bittles Bar in its iconic wedge shaped building. Don't forget to make a wish!
(Photo by William Murphy)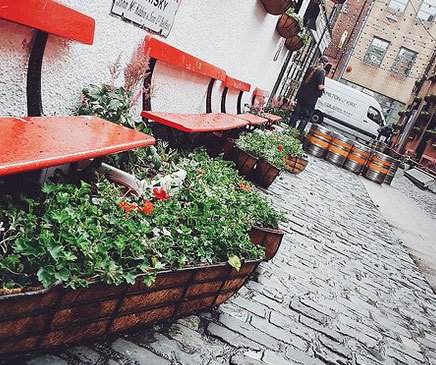 Hill Street
This cobbled street is home to some of Belfast's oldest and most beautiful buildings that make up the artistic and ambient 'Cathedral Quarter'. Soak up the architecture or duck into one of the many pubs or restaurants here off a series of alleyways to enjoy an authentic Belfast welcome. Named after the Cathedral, the oldest part of the City has evolved from Belfast's old trade and warehousing district to a happening area with a very cool arts scene.
(Photo by Andrew Cook)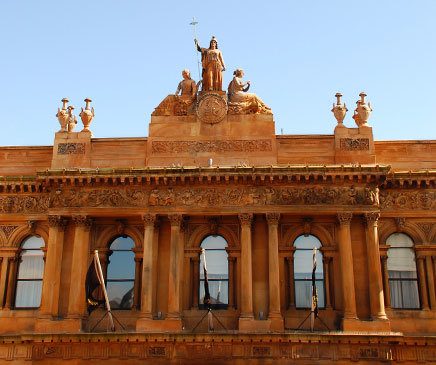 Merchant Hotel
You cannot fail to be impressed by the grandeur of this five star hotel based on Skipper Street which was formerly a bank. Just inside the revolving doors is not only one of the largest chandeliers in Ireland but an award winning cocktail bar and restaurant. The immediate area also has several great pubs and bars and nightclubs and is a short walk to the river.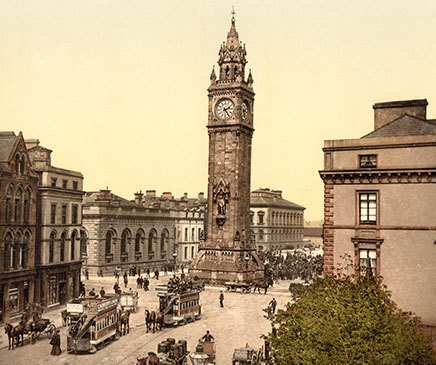 Albert Clock
Belfast's answer to the leaning tower of Pisa, this is one of the City's best-known landmarks. The sandstone clock was constructed between 1865 and 1869 and stands 113 feet tall in a mix of French and Italian Gothic styles. The base of the tower features flying buttresses with heraldic lions. As a result of being built on wooden piles on marshy, reclaimed land around the River Farset, the top of the tower leans four feet off centre, which can make you feel a bit giddy when looking at it.
Meet Our Partners