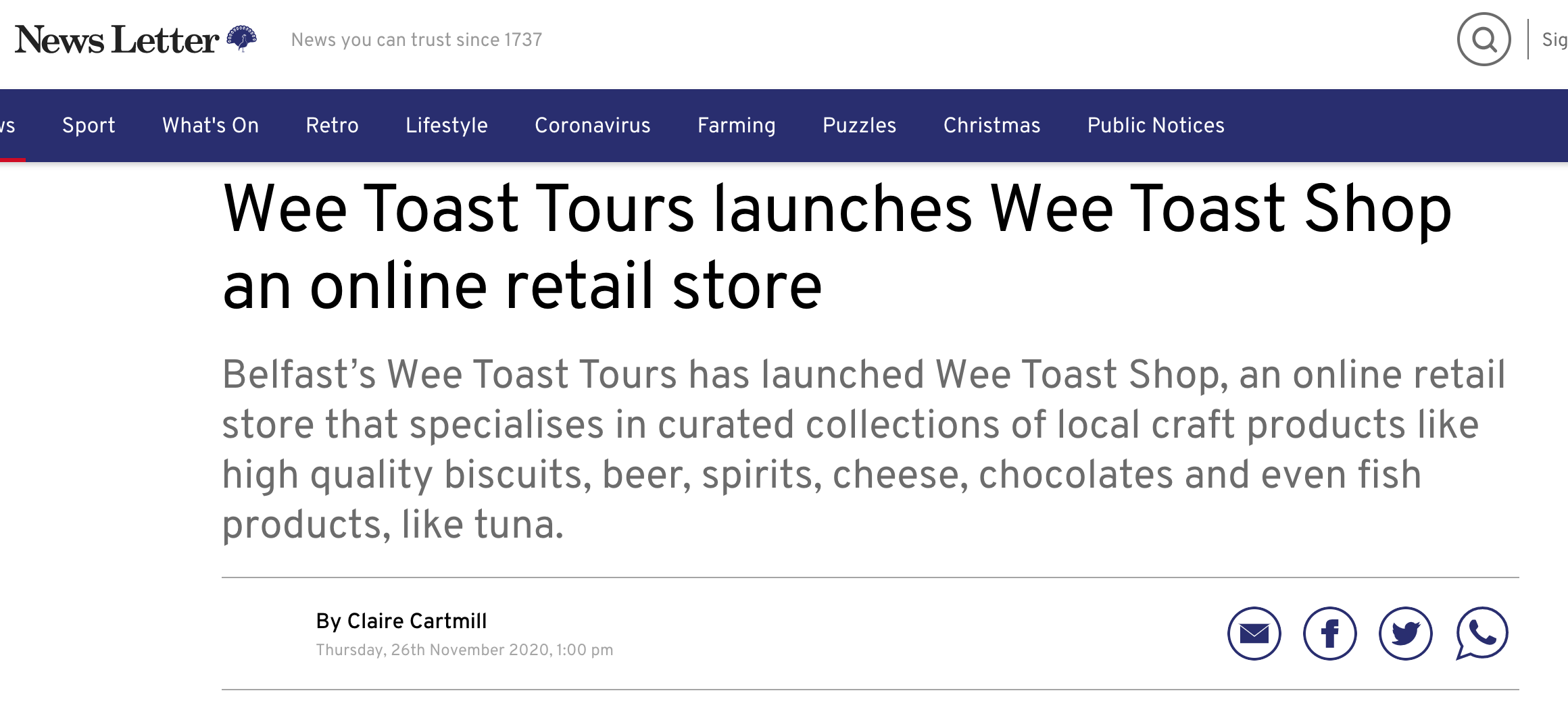 In the Press, Wee Toast is featured in the Newsletter
2020-12-10
Over the years, Wee Toast Tours has been voted the 'Top Four Things To Do in the UK', however with Government restrictions, the business with services in both Belfast and London has had to diversify.
The brainchild of husband and wife duo, Jenn and Ron Kenna, the Wee Toast Shop is a celebration of the best Irish and British products which can be put together into hampers. These include the Seaside Picnic in Ireland which offers products inspired by the sea and The Craic Hamper which is a collection of local favourites like Bushmills Whiskey, Suki Tea, Gubbeen cold cuts, Snow Patrol Hot Sauce, beautiful ceramics, Ulster Weaver Tea Towels and much more.
Jenn explained: "On our Tours, our guests are always after some yummy treats and drinks. So I've had my eye on delicious local specialities for a long time. Our new online store is a one stop shop to pick up some party supplies or cheer someone up by ordering a hamper for delivery straight to their home.
"Visitors to Wee Toast Shop are loving local artist posters by Illustrator Neal McCullough at Hand Drawn Creative in Bangor. Also popular are homeware items by local potter Thomas Powell, Ulster Weavers and Emma Bridgewater. But the real hit so far is the hampers.
"At a time that businesses are being asked to stay closed, we have found a way to safely stay open and launching the online shopping experience has been welcomed by our loyal following as it replicates the same sense of fun the brand is known for."
Offering the same friendly customer service as the tours, Wee Toast Shop is also keeping their team working.
Jenn continued: "We make up a diverse group and our goal has alway been to create meaningful enjoyable jobs that develop career skills. We plan to grow our shop with our existing base as well as finding new customers worldwide. Our hampers have already gone out to some lovely folks in the UK, Europe, and the USA including the governor of New York, Andrew Cuomo and his family.
"If we can't party together, we can party apart. Launching Wee Toast Shop has been a work of love. I am from the States and in our business we host visitors as well as locals and loads of corporate groups. This week we celebrate Thanksgiving back home and across North America. It's a major holiday and a time when families gather from far and wide. Our family and friends here in Northern Ireland have always celebrated Thanksgiving together. It's a fabulous holiday and an enjoyable low stress tradition that I had to pass on in my new homeland. This year we can't gather but we can find ways to celebrate and express our renewed sense of thankfulness.
"The new retail side is helping both business and customers with food, drinks, gifts and fun accessories. Wee Toast Shop is all about making time with family and friends memorable. Let's give gifts, throw parties and have fun virtually and together. Let's enjoy one another and toast to the beginning of the end of this challenging year."
Visit: https://shop.weetoasttours.com
Read more articles